半蹼鸻
Semipalmated Plover
Charadrius semipalmatus
半蹼鸻(英文名:Semipalmated Plover,学名:Charadrius semipalmatus),是鸻形目鸻科鸻属的鸟类。半蹼鸻,属鸻科(Charadriidae)是鸻形目的一科.
繁殖区: NA : inland high Arctic to extreme ne Russia and subarctic Alaska and Canada: e Chukotskiy Pen. (ne Russia), c, e Aleutian Is., all Alaskan mainland and nw British Columbia to Banks and Baffin is., s to w James Bay, Newfoundland and Nova Scotia (nw to ne, se Canada)
非繁殖区: coastal from Oregon and New Jersey (nw, ec USA) s to n Chile and ec Argentina; also Bermuda, throughout West Indies and Galápagos Is.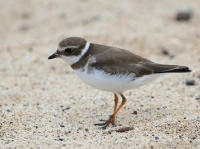 请使用微信扫描以下二维码进入懂鸟查看半蹼鸻的更多图片、鸣声、分类、分布、亚种、多语言名称等详细资料,图片与鸣声识别过万种鸟类:


粤ICP备17132527号-1 Ⓒ2020 深圳市懂鸟科技有限公司